Formex, LLC
2800 Cofer Road
Richmond, VA 23224
Phone: 804.231.1988
Toll Free: 800.446.5799
Fax: 804.232.6114
Ultimate Island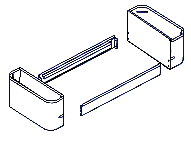 Formex Ultimate Permanent Steel Island Forms offering advanced design with construction components that make installations 90% faster and finished islands more pleasing and professional in appearance. Formex Ultimate Permanent Steel Island Forms enjoy the reputation as the most advanced steel island forms available.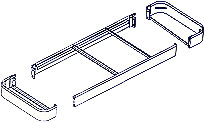 Some Features Include:
Shorter end sections designed to give more room for larger containment systems.
Bracing welded so as not to interfere with canopy columns.
Forms include a 1" return on the straight sides to make islands more rigid.
Sturdy 1" angle cross braces support the weight of heavier containment systems.
Contractors no longer have to cut out bracing in the field.
Raised ends will be made in one piece with heights up to 36".
Components are smaller and require less room to store. Also are less expensive to ship.
Same end components are used for "Dogbone" Islands as are used for straight islands.