Formex, LLC
2800 Cofer Road
Richmond, VA 23224
Phone: 804.231.1988
Toll Free: 800.446.5799
Fax: 804.232.6114
Dogbone Island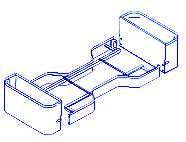 Designed and developed for today's multi-product dispensers. The unique "Dogbone" shape provides the added protection these dispensers and their electronic components deserve, while still allowing each customer access.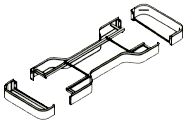 Some Features Include:
Full rub rails with radius corners provide an attractive, finished appearance; protects vehicle tires.
Heavy 12-gauge (1/8") prime steel plate construction. (Available prime coated, galvanized, or stainless steel.)
Double bracing on sidewalls helps prevent bowing and bulges.
Adjustable top braces offer faster, easier more accurate placement of dispenser boxes.
Bottom braces bolt to the flanges for additional strength.
Joint line-up pins permit fast and accurate alignment.
Raised ends will be made in one piece with heights up to 36".
Sturdy 1" angle cross braces support the weight of heavier containment systems.