Formex, LLC
2800 Cofer Road
Richmond, VA 23224
Phone: 804.231.1988
Toll Free: 800.446.5799
Fax: 804.232.6114
Traffic Control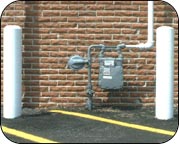 Car Stops and Speed Bumps are made from 100% recycled plastic. They protect your equipment and the environment. Bright molded-in color never requires costly painting or maintenance. They maintain their attractive appearance even under the harshest of conditions. Easy one-person installation or replacement make them very cost effective. They are warranted against breakage for a full 7 years.
Steel Guards in heavy Sch 40 pipe to protect buildings, walkways and equipment.
Use anywhere that traffic poses a danger to people or property.
Available in sizes, 2" to 12" diameter in Black Iron, Stainless Steel, or Galvanized finish.
Powder Coated finishes available in any color offer low maintenance.
Bollard Covers to fit all sizes are available. They are made from heavy polyethylene and never need painting.